What Are CETL FacChats?
FacChats are informal discussion groups where faculty and instructors meet, have some coffee/tea, and chat about a particular topic related to teaching and learning.
Why participate in CETL FacChats?
to meet with other interested colleagues for an informal discussion of teaching and learning
to learn and share ideas around a common theme or question in teaching and learning
to continue to develop professionally as a university instructor and faculty member
Join us for our next FacChat!
Thursday, September 19, 2019 UM FacChat
Time: 2:00 PM – 3:00 PM
Location: Room 322 Student Union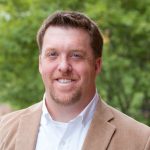 A Chat with Dr. Josh Eyler about Implementing Teaching Tips from Recent Pedagogical Research
Josh Eyler joins UM from Rice University as our new Director of Faculty Development.  His book How Humans Learn: The Science and Stories behind Effective College Teaching was published by West Virginia University Press in 2018, and his eclectic research interests include the biological basis of learning, evidence-based pedagogy, and disability studies.
Please register and join us for a chat with Dr. Josh Eyler!
---
Please see FacChat Archives for previous events.